The Sun is Shining on Business in Virginia: The Story of Kent Baake
By Mike Signer | May 24, 2011 | No Comments
NDP recently visited the headquarters of Continuum Energy Solutions, a remarkable company launched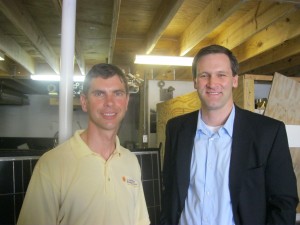 by Kent Baake.  In a cheerful office on General Washington Drive in Alexandria, surrounded by solar panels, installation equipment, and several employees tapping at computers and getting ready for site visits, Kent told NDP his story.
Kent grew up in Alexandria, across from a creek that figures prominently in his childhood memories. At Annandale High School, he became an Eagle Scout.  Even though he lived inside the Beltway, he always considered himself close to nature.  "I enjoyed getting out to the woods and the mountains," he said.  "I was in touch with nature."  Today, he lives near that same creek today and goes to the same pool with his wife and son where he swam as a child.
The summer after he graduated high school, Kent was already bitted by the entrepreneurial bug, launching a gutter exterior business that he continued to run as a college student at James Madison University. At JMU, Kent studied business and plunged into many extracurriculars, including the Student Ambassadors, the Caving Club, and ACE Entrepreneurs.
Perhaps this mix of passions and restless energy helps explain Kent's recent path.  After college, he founded Metro Gutter and Home Services, a successful business he ran for over a decade.  But his eye was never far from broader events both in the United States and the world at large.  "I was alarmed by the national security consequences of our energy choices, like importing oil, the trade deficit, and mountaintop removal," he said.  "These are real risks for the future of my kid," speaking about his son.  "I think it's important as Americans that we think about the energy we use."
Kent realized that he was sitting on a gold mine for turning his interest in cleaner energy into a profitable business.  He already had skilled workers who knew their way around rooftops and were insured, and a loyal customer base.  It didn't take him too long to decide to launch Continuum Energy Solutions, a solar panel installation business that works with customers to finance, install, and monitor residential solar energy.
Today, the two combined companies have 22 employees and the future is bright.  Kent has taken his experience in business and is now pursuing more creative and impactful legislative solutions.  This last General Assembly, he worked with Delegate Adam Ebbin (D-Alexandria) to help sponsor a new Voluntary Solar Resource Development Fund in Virginia.  "We asked what would we do that wouldn't cost the Commonwealth money," Kent recalled.  "Let's do something voluntary."  They modeled their program after a similar one in Maine, which takes in donations and turns them into low-interest loans for residents to finance solar installations.
What drove Kent to get involved in Richmond?  "It's a patriotic duty when we have guys fighting wars that are in part energy related," he said. "It's important to have business leaders who are not just making a sale but leading on education and legislative issues."
As for the future of his business?  "It's only going to grow, because energy is only going to go up," Kent predicted.  Doing good while making a profit—that's a New Dominion we can all believe in.